Arizona Aikido
Coming Up ...
22 December 2018
Training - December 17-22, 2018
Yokomenuchi ikkyo, nikyo, sankyo and yonkyo. Koshinage from shomenuchi, yokomenuchi, katate dori and munetsuki. Saturday - Weapon Arts

[
More Upcoming Events
]
What's New
16 December 2018
Arizona Aikido Students - Pay Your Aikido Schools of Ueshiba Dues via PayPal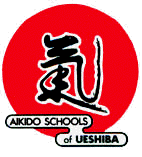 We set up a page for you to pay your Aikido Schools of Ueshiba dues via PayPal. Note that you don't need a PayPal account to accomplish this; you may just use your credit or debit card. Go here to pay via PayPal. (Note that we will charge you a little bit extra to cover the Paypal fee!) Of course, you can still pay your ASU dues the old fashioned way - with cash or a check!

[
More
]